Hi, my loves and welcome to WiccaNow. I've been covering one of my favourite Sabbats, Imbolc, recently. I wrote about the history and meaning of Imbolc and also shared an Imbolc Ritual as well as my favourite Imbolc recipes. Today I want to go into this wonderful holiday a little more and share some tips and ideas for how to set up your own Imbolc Altar.
How to Set Up Your Imbolc Altar
So you've already learned a little about Imbolc and are interested in setting up your own Imbolc Altar at home? Let me guide and help you with some ideas for Altar decorations which apply to this Spring Festival of fire.
Before we get into setting up your Imbolc altar, check out this gorgeous grimoire Amythest and I have created! It's filled with all of our own tips and tricks along with our favourite spells and rituals. The best bit? It's available instantly as a digital download so you can get started right away. Check it out below or keep scrolling to read all about Imbolc Altars.
Imbolc Altar Placement
First off, do you have an Altar already set up in your home? Do you want to modify that or do you prefer to set up a 2nd altar somewhere just for your Imbolc celebration? I like to set up a special little altar at the end of my dining table. To me, it feels nice to have a little altar set up especially for this festival. I have a big enough dining table to do this though so if you don't, don't stress!
Set your altar up anywhere you feel like where you have space. Maybe the top of a bookshelf or on your bedside table. How about on your coffee table? If you don't have any of these available, be creative! Set it up in the corner of a room on a lovely blanket. Use a wider windowsill in the kitchen or living room. The location really isn't important here, the important thing is that you have something that brings you joy for the festival!
Imbolc Altar Decoration
This festival is all about the coming of spring, which makes it a fire festival as we worship the life-giving warmth of the sun. The first thing I always do is to pick a nice altar cloth. The one I use at the moment is a deep red with yellow suns embroidered on it. Whether you have the time or patience to embroider anything is completely up to you and definitely not a must!
Having some candles on your Imbolc altar is always a great way to decorate. I like to use white tealights or red votive candles, but you can use whatever colour makes you think of spring. You don't necessarily have to limit yourself to the traditional Imbolc colours. Maybe you've found a pretty green candle that reminds you of new growth. Or a light purple candle which looks like a newly sprouted crocus. Maybe a soft pink is more your style and makes you think of new lambs and new life. Use whatever colours inspire the feeling of spring within you to decorate your altar and don't worry if they aren't traditional.
Be careful of where you place your candles and always practice fire safety. If you have set up your altar in the corner of a room, make sure no animals or children can get near the candles and that no drapes or curtains are in the way! Place any candles in a fire-proof vessel to make sure you don't accidentally burn the floor or anything surrounding the candles.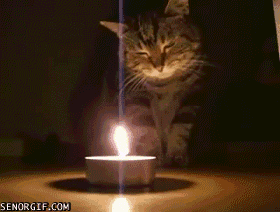 Another wonderful decoration is a tribute to the Goddess Brigid. I like to make the symbol of the triple goddess on my altar with tea lights. This fits perfectly for Brigid as she is an embodiment of the Triple Goddess while also being a Goddess of the Hearth and Fire. If you have a statue or another symbol of the triple goddess, place it on your Imbolc altar too.
Another tribute to Brigid would be to hang a Brigid's Cross (follow the link for a step by step tutorial) somewhere or to place it on your altar. I always try to find a branch of early flowering blooms, like flowering quince, which I then place in a tall vase. I hang a couple of newly made Brigid's Crosses off the branch as a decoration and also to honour the goddess.
Other Symbols to represent the Goddess Brigid
A small cup or bowl of water. Brigid is the keeper of the sacred healing well so a small water vessel would honour her.
A Brigid Corn Doll
A white Birch Wand – Brigid is said to use this to re-ignite the growth of plants slumbering over the winter months.
A small hammer or Anvil. Brigid is the Goddess of Metalwork and Smithcraft.
Your favourite herbs. Brigid is the Goddess of Healing so healing herbs would be a fitting tribute to her.
At this point, in Berlin anyway, it's still too cold for there to be much new greenery sprouting which means I'm limited with what I can gather to decorate my Imbolc Altar. There are some evergreens in the area where I live so often I will clip a few small branches to lay around my Imbolc candles, along with some witch hazel. I'm also not opposed to buying a few small spring flowers in order to decorate my Imbolc altar.
Early Spring Flowers for Your Imbolc Altar
Because Imbolc happens at the very, very start of spring, there aren't that many flowers that have already started blooming. However, there area few which pop their heads out early, sometimes even while there is still snow on the ground. Check around your home, I know that there is a witch hazel bush just around the corner from me and flowering quince in various spots around the city.
Some early flowering spring plants are:
Snowdrops
Hyacinth
Crocuses
Winter Jasmine
Daffodils
Witch Hazel
Magnolia
Glory-of-the-Snow
Pussy Willows
Flowering Quince
Because Imbolc celebrates the coming of spring and the start of the growing season, I like to have a potted plant or 2 on my altar. These don't necessarily have to be blooming, they are meant to represent the potential for growth that spring brings with it. Using a hyacinth bulb or daffodil bulb is great because then you'll have the prettiest flowers a little later on if they aren't blooming already. Another way of representing spring would be a packet of your favourite seeds which you will sow as soon as the weather warms enough for them to survive.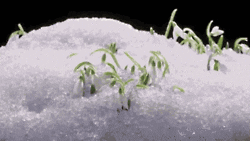 Other Imbolc Altar Decorations
Because Imbolc is a Celtic festival, another nice touch can be to have a Celtic knot or something that represents the origin of the festival on your altar.
Your altar should represent your idea of the festival. Maybe you enjoy the idea that this festival is linked to ewes and the lambing season and you want to add a small figure of a sheep or lamb. Perhaps you like to bake and want to add a small cake to your alter or some festive cookies. Do you like to write poetry? Brigid is the Goddess of poetry so maybe you want to pen her a missive and leave it on the Imbolc altar for her.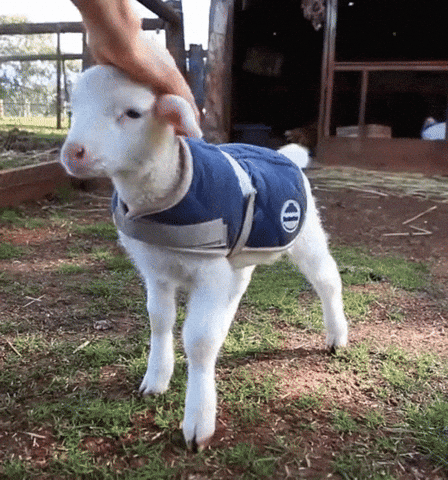 Have fun with your Imbolc alter, it's meant to bring you joy, a feeling of rejuvenation and an appreciation of life. There are no prescribed decorations or ideas you have to follow so enjoy the process of creating your altar.
Until next time, my springtime loving, fire festival celebrators.
Blessed Be,
Amaria xoxo
Do you like Plant Magick? We've got just the thing for you…